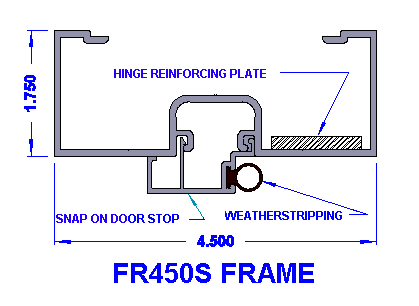 MATERIAL: Frame members shall be of 6063-T5 extruded aluminum alloy with a nominal wall thickness of .090". All screws and miscellaneous fasteners shall be stainless steel or other corrosion resistant material. Weatherstripping shall be Santoprene Thermoplastic Black Rubber.
CONSTRUCTION: Frame shall be cut or notched to provide neat hairline joints. Jambs and header shall be fastened with stainless steel screws. All frames shall be mortise for hinges and lock strike plates. Surface mounted hardware shall be drilled and tapped in the field. Hinges and strike mounting plates will be of 1/4" aluminum plate.
FINISH: The standard finish for aluminum frames are 204R1 clear anodized with a minimum coating of 0.4 mils thick and 313 dark bronze anodized class 1. Other finishes available on request.